Tag:
Wind Energy
At Missouri Farm Bureau's Annual Meeting in early December, rural Missourians voiced strong...
Read More
On Tuesday, the Missouri Farm Bureau legislative team traveled to Atchison County, in the far...
Read More
Archives
We are excited to announce @StanleyBlkDeckr as a returning sponsor of 2023 @AFBFYFR competitive events! They are proud sponsors of $1,655 of Stanley Black & Decker merchandise for third place finalists in Achievement Award, Discussion Meet & Excellence in Agriculture.
Twitter feed video.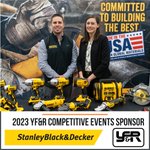 Yesterday, @GovParsonMO extended Missouri's drought alert until March 1, 2023, to address issues outlined by the state's Drought Assessment Committee. https://bit.ly/3ionaCb #agriculture #MOagriculture #MOag @FarmBureau
MOFB President @JGarrettHawkins wrote this week about the upcoming Annual Meeting -- the 108th in Missouri Farm Bureau history! Give it a read, and we look forward to seeing many members at the Lake of the Ozarks this weekend! #MOFB22
Agriculture Takes Center Stage at Farm Bureau Annual Meeting
Each December, over 1,200 farmers and ranchers from across Missouri gather at the Lake of the Ozarks to reconnect with old friends, learn from nationa...
bit.ly
Load More...