Tag:
pork
The COVID-19 crisis has hit livestock farmers particularly hard. First, stay-at-home orders...
Read More
Archives
The following is a joint statement by Missouri Farm Bureau, @MoCattle, @missourisoybean, @MissouriCorn and the Missouri Pork Association regarding today's unanimous Missouri Supreme Court (re: SB 391 and HB 271): https://bit.ly/40owZk3

cc: @FarmBureau #agvocate #MOleg
Twitter feed video.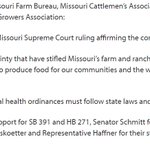 This #AgDay23 and every day, we're honored to serve and represent Missouri's farmers and ranchers who grow the products that sustain life and make our lives and world better.
Twitter feed video.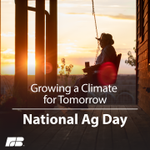 Load More...