Tag:
paxton dahmer
Digging In with Missouri Farm Bureau · FFA Week with National FFA Officer Paxton Dahmer In honor...
Read More
Archives
Load up your grill this Fourth of July with meat from producers in your area! The Missouri Meat Producer Directory is a statewide county by county listing of farmers that sell beef, pork, lamb and poultry directly to consumers. Check it out today!
Buy Direct from Missouri Meat Producers - Missouri Farm Bureau
From the farm right to your table: purchase meat directly from Missouri farmers.
mofb.org
Congratulations to Alece Ausberger of Platte City, whose entry from the 2022 photo contest was selected as the July image on this year's Missouri Farm Bureau calendar!

Eyes will be to the skies this weekend too, so have a relaxing, safe and fun Fourth of July!
Twitter feed video.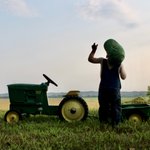 Load More...