Tag:
Innovation
Digging In with Missouri Farm Bureau · KC Ag Innovation w/Bob Petersen Bob Petersen,...
Read More
Archives
"All too often, we are frustrated by the arduous legislative process standing in the way of getting common-sense laws passed. We appreciate @GovParsonMO & leaders in the House and Senate putting their heads down and doing what it took to pass HB 3." #MOleg
Agriculture is a Wise Investment for Missouri's Future
After three weeks of debate and negotiations, the Missouri legislature reauthorized targeted agricultural tax credits as part of a broad agriculture l...
bit.ly
Missouri Farm Bureau President @JGarrettHawkins issued the following statement today following the conclusion of the 2022 Special Session:

#MOleg #MOagriculture #MOag
Twitter feed video.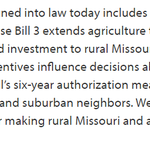 Load More...