Tag:
Highly Erodible Land
On this week's Digging In, Eric Bohl is joined by MOFB's legislative team to discuss...
Read More
Archives
"All too often, we are frustrated by the arduous legislative process standing in the way of getting common-sense laws passed. We appreciate @GovParsonMO & leaders in the House and Senate putting their heads down and doing what it took to pass HB 3." #MOleg
Agriculture is a Wise Investment for Missouri's Future
After three weeks of debate and negotiations, the Missouri legislature reauthorized targeted agricultural tax credits as part of a broad agriculture l...
bit.ly
Missouri Farm Bureau President @JGarrettHawkins issued the following statement today following the conclusion of the 2022 Special Session:

#MOleg #MOagriculture #MOag
Twitter feed video.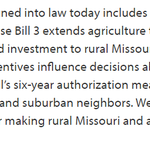 Load More...