Archives
We had a great time with Missouri educators at our annual Ag in the Classroom conference yesterday! We're already making plans for next year, so thank you to all who attended and help organize this year's event! #MOedchat #MOagriculture #MOag #SpeakAg #education #AITC
The treat trolley is making its way through our home office today helping raise funds for our great friends at @unitedwaycemo! We are so grateful to partner once again with such a fantastic organization. Looking good, @JGarrettHawkins & Bridget!
Twitter feed video.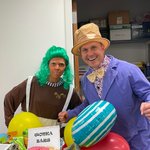 "Missouri is blessed with hundreds of opportunities statewide to get both kids and adults outside to use their imaginations and learn about almost anything through our robust agritourism industry." - @JGarrettHawkins

Check out this week's Commentary!
Missouri Agritourism Provides Year-Round Possibilities
We're nearing that point of summer when the dreaded words start to slip out of kids' mouths all over the country: "I'm bored!&...
bit.ly
Load More...