Tag:
feeding missouri
Listen to the Audio The economic impact of COVID-19 has hit low-income families harder than most....
Read More
Archives
🌟 🌟 ENDORSEMENT 🌟 🌟

The MOFB Political Action Committee has endorsed @RepHartzler in the upcoming August 2022 primary for Missouri's open United States Senate seat.

Read more about this historic endorsement: https://bit.ly/39WQ5t6 #MOleg #MOsen #MOagriculture @FarmBureau
Twitter feed video.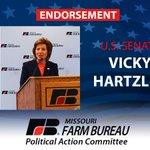 We had a great time with Missouri educators at our annual Ag in the Classroom conference yesterday! We're already making plans for next year, so thank you to all who attended and help organize this year's event! #MOedchat #MOagriculture #MOag #SpeakAg #education #AITC
Load More...