Author:
Jessica Wharton
America loves healthy living; from popular lifestyle blogs, to the recent farm-to-table frenzy,...
Read More
As presidential candidates' screen-printed busses navigate the dusty back roads of America, rural voters now more than ever need to make sense of the political chaos that has taken over national headlines by researching...
Read More
Archives
Statement regarding the market facilitation program announcement ⬇️ https://t.co/P9w1xvuz8l
The Missouri Farm Bureau home office and the county offices in Jefferson City were not damaged by ... the storms last night. We are here and ready to serve our members as many are now assessing damage to their property. Customer support can be reached at 1-800-922-4632.
Twitter feed video.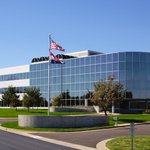 Are you subscribed to our #DiggingInPodcast? Every week our legislative team updates listeners on ... important issues affecting Missouri agriculture.
Trade Wars Rage On, MO Leg 2019 Session Ends
Spencer Tuma and BJ Tanksley join Eric Bohl for an update on trade policy, compensation payments, disaster programs, disaster declarations, county hea...
mofb.org