Author:
Jennifer Poindexter
Late February in Missouri is cold, as in negative-temperatures-in-the-evening cold. The recent...
Read More
Archives
Join us as we spotlight the importance of agriculture during Celebrate Agriculture: Thank a Farmer Week! This special week is a time to celebrate the abundance of food, fuel and fiber produced by farmers. County Farm Bureaus will be sharing the message of agriculture all week!
Twitter feed video.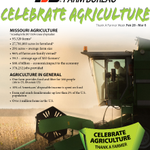 A farmer's business is a network of fields, each with millions of seeds, and to reach maximum potential, farmers must precisely manage each as they grow. Missouri Farm Bureau and @JohnDeere want to help you grow your potential: https://youtu.be/iHRU5oRrU-A
In this week's #Commentary, MOFB President @JGarrettHawkins shared a few recommendations from our member-adopted policies that were recently sent to Missouri's Congressional delegation. #MOleg #MOagriculture

Common-Sense Policies Move Rural America Forward
Brutal. Miserable. Those were a couple of words (among others) used to describe the recent Arctic blast. As farmers and ranchers, we know dealing with...
mofb.org
Load More...